Sewage Damage Cleanup
Sewage Damage Restoration & Repairs
Your Local Sewage Damage Cleanup Company
Call Professional Restoration Services For Immediate Response To All Sewage Emergencies.
A sewage backup in your property is a serious mess and health hazard. Because sewage carries bacteria, exposure to these germs can lead to numerous different diseases. For this reason, when you need sewage backup cleanup services, the only option is to call a professional. As your local sewage damage cleanup company, Professional Restoration Services understands the unique challenges associated with restoring your home or business after it is ravished by wastewater. We remove all contaminated building materials to ensure that the affected areas are properly cleaned. This includes carpets, carpet pads, flooring, baseboards, furniture and everything else touched by sewage. A sewage damage cleanup situation stinks — let PRS handle the stress and mess.
24/7 Emergency Sewage Damage Response 919-467-1991.
Professional Restoration Services is a certified sewage backup cleanup company in Apex, NC. Call us day or night for immediate response 24/7. As every sewage damage disaster and property are unique, we tailor our sewage damage cleanup response to fit your specific needs. We promise to restore your home or business to pre-loss condition as quickly as possible, with minimal disruption to you. PRS coordinates with all insurance companies to help cover your sewage damage cleanup claim. 
Emergency Sewage Damage Cleanup Services
Call Professional Restoration Services, day or night, for an immediate sewage damage inspection, sewage water extraction, drying and dehumidification, sewage damage cleaning and deodorization, and sewage damage repairs.
We service all of Apex, Cary, Raleigh and the NC Triangle area. We are your local sewage damage cleanup and sewage damage restoration company.
It is always better to be mindful of potential causes of sewage damage than to find out the hard way. Since sewage water creates irreparable damage in a property, you want to avoid a sewage damage cleanup emergency at all costs. With this in mind, it is essential to recognize the causes of sewage damage to prevent a smelly disaster. While some causes of sewage damage can be prevented, others sometimes lurk hidden beneath the surface. 
Sewer Line Surge or Backup
A backup in the city sewage line can create overflows at low entry points in the line. Sewage damage may result if overflowing wastewater leaks through lower toilets and drains.
Tree Root System Infiltration
A common cause of sewage damage and backups are the spreading of tree root systems as they grow into the sewage line. Cracked and broken pipes lead to a sewage overflow.
Solid Flushes and Blockage
You have probably flushed something on accident before. From toys to diapers, trash, and more, a solid flush fails to decompose, thereby creating a blockage in the line.
Structural Sewage System Defects
Collapsed, cracked, broken, and misaligned pipes are indicative of structural defects in the sewage line. Each of these can cause sewage damage and require reconstruction.
Sewage Backup Restoration You Can Trust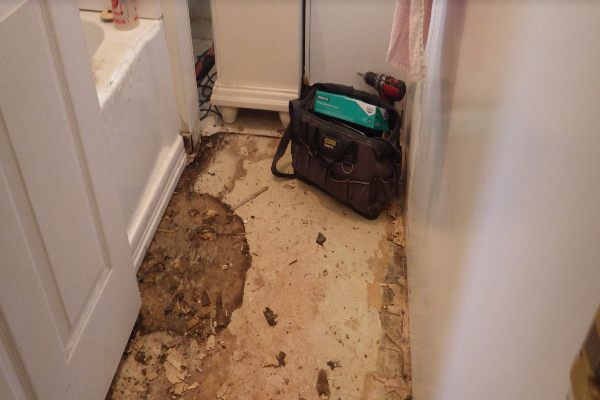 Sewage falls into the category of wastewater, also known as "blackwater". This means that it contains toilet water, urine, feces, and other dangerous pathogens. If you don't take the proper precautions, Hepatitis A, Tetanus, Giardia, and other serious illnesses are a likely potential.
To keep you and your family healthy, it is recommended that you hire a sewage damage cleanup company with the expertise and equipment needed to get the job done correctly. Doing so helps minimize the risks you would face otherwise attempting to mitigate sewage damage on your own.
We recognize how challenging sewage damage emergencies are, and thus aim to alleviate your stress. PRS specializes in sewage damage cleanup, sewage damage restoration, and sewage damage repairs. Our trained technicians meet IICRC requirements to quickly restore your property.
The licensed and certified experts at Professional Restoration Services easily solve any sewage backup issues in your home or business. Give us a call today at (919)-467-1991 to see how we can help you. Our sewage damage cleanup experts are highly trained to safely repair the damage throughout Apex, Cary, Raleigh, and the Research Triangle area. Here is what you can expect:
We Work With Your Insurance Company
If you already have insurance, you are in luck. Having coverage in place allows for easy sewage damage restoration. Even still, you'll want to ensure that your sewage damage cleanup response is swift.
Negligence could lead to your insurance claim being declined. If the insurance company finds that additional property damage occurred due to poor maintenance or response, your claim may be denied. You can find out more about insurance and how to manage your insurance homeowner's policy by contacting the Insurance Information Institute. 
If you require sewage damage cleanup and sewage damage restoration services, call us today. PRS coordinates with all insurance companies to return your home and life back to normal. Trust our experienced team to communicate effectively with your insurance adjuster and work on your behalf!