Tree Damage Restoration
Repairs for Storm, Wind, & Tree Damage
Your Local Tree Damage Company
Call Professional Restoration Services For Immediate Response To All Tree Emergencies.
Many times, a storm with high winds can cause a tree to fall on a home or business, severely damaging the structure. In these instances of tree damage, emergency board up or tarping is needed to keep rain water from entering the property. If you are in need of a board up or tarp on your roof, even in the middle of the night, call Professional Restoration Services. We respond 24 hours a days and 365 days a year.
Professional Restoration Services serves the Raleigh, Cary and Research Triangle area. We have 25 years of experience in restoring tree damage resulting from storms and wind. PRS is also a North Carolina State licensed general contractor and can handle any residential or commercial job.
If a tree falls on your home, get your family to a safe place and call 911 immediately. Often, trees hit power lines, breaking or damaging them. A downed power line can be deadly if touched, and means that there is a greater chance of fire. After you are safe, call Professional Restoration Services for 24/7 emergency tree damage repair services. As a licensed general contractor, PRS can handle your repairs — from building stabilization to a complete renovation. 
Holes in your roof or windows allow water and wind into your home, causing even greater damage to your belongings. Don't try to tarp or board up your home on your own.  Ill-secured tarps won't keep the elements out, and you could fall from the roof or ladder. Our technicians tarp your roof and board up windows to prevent more damage. Once you have contacted your insurance company, we will draw up an estimate and get right to work.
Emergency Tree Damage Services
Call Professional Restoration Services, day or night, for an immediate tree limb removal, structural stabilization, emergency tree damage repairs, secondary tree damage repairs, and more.
We service all of Apex, Cary, Raleigh and the NC Triangle area. We are your local tree damage restoration company.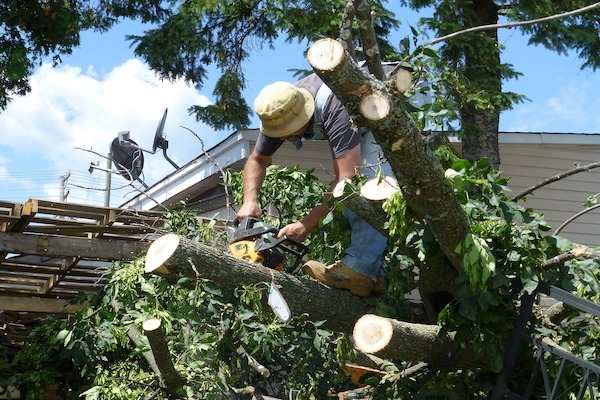 Storms with heavy rain and high wind speeds can cause major damage to your home or business.  If you do have flooding, wind damage, or tree damage, call Professional Restoration Services immediately. Our caring professionals can assist you with tree and limb removal, boarding up windows, putting tarps up over exposed roofing, water extraction, mold and mildew prevention, dehumidifying, and structural stabilization.
After the structure is stabilized, PRS returns your home or business to normal from start to finish. As a general contractor and IICRC-certified restoration firm, we can handle any tree damage or storm damage job. We work with local contractors to complete the tree removal and rebuild.
Our Trusted Tree Damage Services
Tree and Limb Removal
PRS works with local contractors to safely remove trees and tree limbs from the premises of your property. It is best to call a professional tree damage company as this is challenging and dangerous work.
Secondary Tree Damage Repairs
Damages to roofs and walls expose the interior of a building to the elements. Tree damage can result in water damage and mold growth, especially after a major storm. PRS' experts guide you through every step of restoring your home's integrity.
Emergency Tree Damage Repairs
The technicians at Professional Restoration Services stop further damage with immediate action. We board up broken windows and put tarps on the roof.
Reconstruction
Storm damage often creates a need for extensive repairs to a structure to make it habitable. Professional Restoration Services makes it easy to complete your tree damage project in one sweep with reconstruction services by partnering with local rebuild experts.
We Work With Your Insurance Company
When a tree falls on your house, call your insurance company immediately, regardless of whose property the tree originally sat on. Always make sure your damage is covered before starting a removal and repair project so there are no surprises when your bill comes. Insurance coverage of tree damage varies from each company and policy. However, most companies cover repairs for tree damage after storms, and possibly also for tree removal depending on the location of limbs.
If you need tree damage services, call us today. PRS works with every insurance company in the area to get your home or business back to normal. Our professionals coordinate directly with your insurance adjuster and representative to get your home habitable. PRS works on your behalf!