Smoke Damage Cleaning
Thorough Smoke Damage Restoration
Your Local Smoke Damage Cleaning Company
Call Professional Restoration Services For Immediate Response To All Fire Emergencies.
Part of fire damage repairs in your home or business is handling the resulting smoke damage. The smoke smell can permeate every crack and crevice of your home, making it difficult to remove the smoke damage and odor. Professional Restoration Services (PRS) has certified technicians and the relevant experience to help you with your smoke damage cleaning and smoke smell removal from a fire.
Smoke gets behind cabinets, vanities and even wall outlets, making it very hard to remove. When dealing with smoke damage you first have to remove all building materials that are not restorable from the fire damage. Anything charred needs to be removed. After the damaged material is removed, you can begin wiping down and cleaning the entire structure to remove smoke residue. Once the residue has been cleaned, you can begin deodorizing the space. Don't try to complete this process yourself, as the oily residue left behind from the fire make it very difficult to clean. In order to properly remove the smoke smell, you need the correct equipment and knowledge. For this reason, we highly recommend enlisting the help of Professional Restoration Services. We have the expertise needed to leave your property in pristine condition.
Emergency Smoke Damage Cleaning Services
Call Professional Restoration Services, day or night, for an immediate smoke damage cleaning inspection, smoke soot cleaning, smoke odor removal, and smoke damage restoration and repairs. We service all of Apex, Cary, Raleigh and the NC Triangle area. We are your local fire restoration company.
One of the messiest parts after a fire is dealing with smoke damage cleaning. There are four possible types of smoke damage that result after a fire. Different variables such as the fire temperature, fuel materials, and where the fire burned affect each. Identifying which of the four types of smoke damage you have is important. After all, proper restoration depends upon this key piece of information. Luckily, PRS' team of professional smoke damage cleaning technicians is comfortable restoring all types of smoke damage, including:

Dry Smoke
Caused by fast-burning, high-temperature fires ignited by wood or paper, dry smoke is relatively simple to clean. However, it falls into crevices and permeates porous materials, meaning that while the house may look clean, the smoke smell can linger.

Protein Residue
Protein residue comes from the burning of organic materials that evaporate in a low-heat fire. Although nearly invisible and without soot or streaks, protein residue does discolor surfaces with which it comes into contact. Of all types of smoke damage, protein residue's unpleasant aroma needs professional treatment.

Wet Smoke
Low-heat, smoldering fires fueled by plastic or rubber cause wet smoke. These blazes see fewer flames, but much denser and smellier black smoke results. As it is sticky and dense, wet smoke residue smears when cleaned. For this reason, we utilize special equipment to properly clean the wet smoke.

Petroleum Residue
Petroleum residue is also known as fuel/oil residue. Although uncommon in home and business fires, faulty furnaces can create fuel/oil residue. When a furnace does not ignite properly, a "puffback" unleashes smoke and soot through a leak or small explosion. You will need professional help for the sticky texture and foul odor.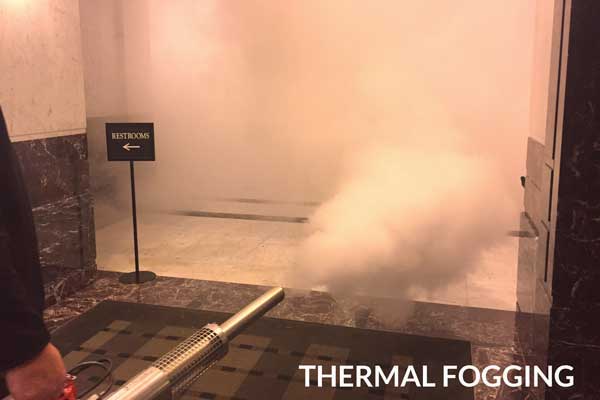 Do you have the odor of smoke smell in your house after a fire? Smoke damage gets everywhere — even in small crevices. These areas can include behind cabinets and vanities, inside electrical wall outlets, and the ductwork.
Removing the carpet and applying a fresh coat of paint will not solve these hard to reach cleaning areas when affected by smoke damage. We don't just make your property look good again, we also offer thorough smoke smell removal. Professional-grade sprays and solutions deodorize the premises so you can breathe easily. 
Call Professional Restoration Services for expert cleaning technicians and specialized smoke deodorization cleaning equipment.
Smoke Deodorization Techniques
Thermal Fogging
Thermal fogging is an effective smoke odor removal procedure because it recreates the fire-related properties of heat and pressurization. Porous materials pick up thermally activated deodorant droplets in the same manner in which they picked up the smoke odors, closely duplicating what occurs during a fire.
TOMI SteraMist
SteraMist BIT requires no wipe, no rinse, leaves no residues, and eliminates bacteria. Activated Ionized Hydrogen Peroxide (AIHP) technology reaches surfaces that regular disinfectants can't and does not create toxic by-products. SteraMist is economical, easy to apply, and you can smell the clean.
Hydroxyl Radicals
Hydroxyl radicals (OH) form in the atmosphere when the sun's UV rays react with water vapor (H2O) and oxygen (O2). They rapidly decompose chemicals in the air and are often referred to as "nature's broom" because of their ability to clear the atmosphere of harmful organic and inorganic compounds.
Ozone Machine
When odors, bacteria or viruses make contact with ozone, their chemical structure is changed to less odorous compounds. As more ozone attacks the remaining compounds, the odor is eventually destroyed. This process is called oxidation. Ozone essentially reverts back to oxygen after it is used.
We Work With Your Insurance Company
It's important that your response to smoke damage cleaning in your home or business doesn't demonstrate disregard. Otherwise, it is possible that your claim may be denied.  If insurance proves that additional property damage occurred due to poor maintenance or response, your claim may not be covered. Contact the Insurance Information Institute for more information about insurance and how to manage your insurance homeowner's policy. 
If you need smoke damage cleaning services, call us today. PRS works with every insurance company in the area to get your home or business back to normal. Our professionals coordinate directly with your insurance adjuster and representative to get you back on your feet. Professional Restoration Services works on your behalf!