Hot Water Heater Water Damage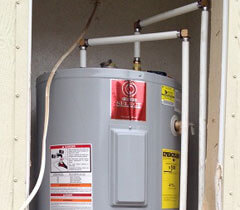 If you are in Cary or a neighboring city such as Apex, Raleigh, or Durham and you have flood damage from a hot water heater free to give us a call at our 24-hour emergency hotline. We are locally owned and operated and we're the flood damage experts. To see why else we're the best choice, feel free to visit our detailed water damage and restoration page.
Hot water heaters are a modern blessing but like all devices, they eventually fail, and when a water heater fails, it's a big deal.
Not only do the contents of your tank pour out, but the water keeps flowing into (and out of) it. Effectively you have a flood in your home or business with hundreds of gallons potentially damaging your floors, walls, and possessions.
Worse, since the heating elements are designed to either be submerged in the case of electric or covered safely in the case of gas burners, you also run the risk of fire, which means in the same day your house could flood and burn to the ground.
Talk about a double whammy.
The first thing is to cut off the power, whether gas or electric, but especially electric. You don't want to have wet feet and be uncertain about electricity.
If it's electric, go to your panel and flip the switch for the heater. If it's gas, shut off the gas line to the heater. If you smell any gas, then open windows and doors and wait outside until it's thoroughly ventilated.
As soon as it's safe to do so, you should shut off the water to the heater.
Getting your house back may involve several things, including but not necessarily limited to:
Working with your insurance company.
Removing your damaged possessions
Water extraction
Dehumidifying and drying
Odor removal
Repair and restoration
If you live in Cary or Durham, North Carolina, or the surrounding area, we can help! We can get a crew to you quickly. We can help you with the insurance company. Aside from removing the water, we can assess any further structural damage and repair it quickly.