Hardwood Floor Water Damage and Restoration in Cary, Raleigh and Durham
In the water damage and restoration business we often have to deal with destroyed wood floors. We repair wood floors in Cary, Raleigh, Durham and all areas around the triangle.
If you have water damage in your home feel free to call us today. We are not just water damage and restoration experts, we are also North Carolina State licensed contractors native to the area who have done everything from mold remediation to complete home builds.
Today we're discussing hardwood floor water damage and repair.
Hardwood Floor Damage
The repair we do to your damaged hardwood floors depends on the amount of damage done to them, the material the floor is made out of, and if there is water under the floor or not. Different wood types determine how well the floor will react to water damage.
Repair or replace?
We repair hardwood floors whenever we can. Sometimes, a section of the floor must be replaced, or the entire floor must be replaced. We can usually get an exact match for some flooring. Other times the entire floor must be replaced. If you have major floor and water damage your homeowner's insurance will take care of the claim.
Insurance companies like us to replace as quickly as possible as drying fees add up. If drying the floor is not going to rescue it they do not want to pay for both the rescue attempt and the replacement. Nor would we want to overcharge anyone. If the floor can be saved or not depends on how much water is on it, how long it has been there, and what is underneath it. If the floor is wet and you want any chance of saving it we do need to be on site ASAP. Blowers and dehumidifiers will not save a hardwood floor. If they can be rescued these hardwood drying mats will do the trick. We do have these on our trucks: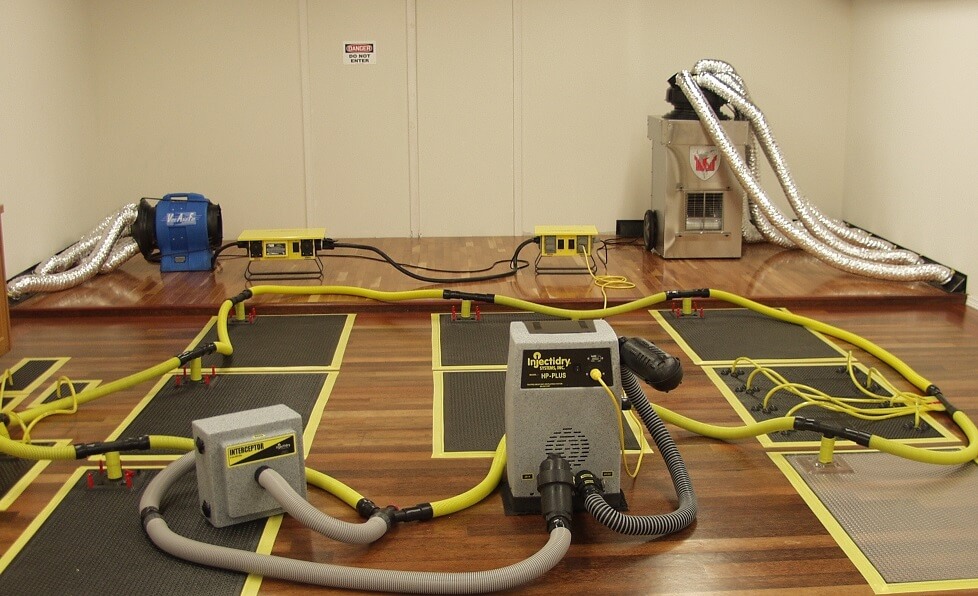 Not all wood floors are created equally.
Wood floors come in strip wood, plank wood, engineered wood, and laminate wood.
Solid and Plank wood floors. Strip wood and plank wood floors are actually strips of wood. These floors can sometimes be restored. Sometimes they can even be restored several times. Solid plank wood floors can be made from maple, oak, or another type of wood. Plank wood is more forgiving, and may be saved as described above. We will do everything we can to save your wood floors, but keep in mind not all wood floors can be saved.
Engineered and laminate wood floors. These are engineered- built from various wood layers glued together. Laminate wood floors a very popular in homes in Cary, NC; these look like wood floors but are not entirely wood. Picture soggy cardboard- that is what these look like when they get wet. These are always replaced.
Areas we service
We service Raleigh, Cary, Apex, Durham, and all surrounding areas.
For full details on flood damage, restoration and how the process works please see our water damage page.