Summer Vacation Home Flood Damage
Our most common request in the summer is flood damage.
Summer is here, the kids are out of school and it is HOT in central North Carolina. Here's the temperature at the time of this article is written: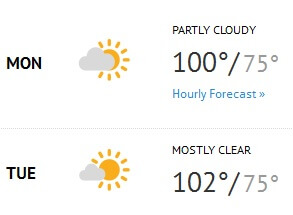 Unfortunately, the water doesn't always stay at the beach, and when you return home from a relaxing (or exhausting) vacation, you step inside your home to hear squish, squash or see your hardwood floors under 3 inches of water.
Professional Restoration Services has seen this problem a hundred times. If you have severe damage, exit the home and call our emergency 24-hour hotline. Water damage can result in structural damage and electrical problems. We can restore your home to look like new again but can not help with electrocution, so please, stay safe.
Washing machine water damage is a common occurrence, so are broken and burst pipes. If you have this damage, it is important to call us as soon as possible. We will work directly with your homeowner's insurance throughout the restoration process and get life back to normal as soon as possible. Feel free to visit our comprehensive page on water damage here.
We're a locally owned and operated restoration business.
Here is a kitchen which we recently restored: